What am I to do when the circumstances of life become more than I can bear; when rising from my bed in the morning is like climbing a mountain and putting one foot in front of the other is exhausting, painful, overwhelming; when questions assault me on every side, my mind becomes a windstorm of thoughts, tears flow like rivers and my heart is broken?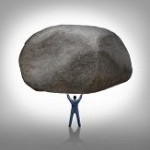 I had to know.
So I asked.
I found a simple, yet most difficult answer.
Trust.
Do I believe in a God who can heal? Absolutely. I've seen and experienced healing and know He can and still does.
Do I believe in a God who can miraculously deliver me out of trouble? Definitely. I've encountered that in my own life and the lives of others.
Do I have faith for instant miracles? No question. All I need is faith the size of a mustard seed. I sweep dust from my kitchen floor bigger than that.
Do I believe God is sovereign and I won't always understand His ways?  Yes. So my mission is simply to believe Him, to trust Him.
No matter what.
To trust I am loved. Romans 8:38-39 For I am sure that neither death nor life, nor angels nor rulers, nor things present nor things to come, nor powers, nor height nor depth, nor anything else in all creation, will be able to separate us from the love of God in Christ Jesus our Lord.
To trust I am never on my own.  Matthew 28:20 I am with you always, even to the end of the age." Hebrews 13:5  "I will never leave you nor forsake you."
To trust in the darkest place. Psalm 23:4 Even though I walk through the valley of the shadow of death, I will fear no evil, for you are with me; your rod and your staff, they comfort me.
To trust He has a plan for me.  Jeremiah 29:11 I know the thoughts that I think toward you, says the Lord, thoughts of peace and not of evil, to give you a future and a hope. Philippians 6:6… being confident of this very thing, that He who has begun a good work in you will complete it.
To trust He will bring me through. Isaiah 43:1-3 Do not fear, for I have redeemed you; I have called you by name; you are mine. When you pass through the waters, I will be with you; and when you pass through the rivers, they will not sweep over you. When you walk through the fire, you will not be burned; the flames will not set you ablaze. For I am the Lord your God, the Holy One of Israel, your Savior.
To trust He knows what I need. John 6:68 "Lord, to whom shall we go? You have the words of eternal life. We have come to believe and to know that you are the Holy One of God."
I have nowhere else to go. I've searched everywhere. No one, nothing, provides the answers I want or need.
It is only Christ who proves strong in my weakness, mighty in my suffering.
 "As a father shows compassion to his children, so the Lord shows compassion to those who fear Him. For He knows our frame; He remembers that we are dust." Psalm 103:13-14
Jesus walked where I walk, He felt what I feel. He experienced the wide range of emotions life on Earth brings.
He knows my frame, how I'm put together and what makes me tick.
He knows without Him I'm nothing but a pile of dust.
He lived, died and resurrected to fill the breach between Heaven and Earth. He did all that for me.
When I'm weary, broken, my faith is small and my hope is almost extinguished, Jesus sees and hears.
Compassion overtakes him.
I imagine Him, sitting to the right of the Father, his nail scared hands resting on the arms of the throne room chair.
He leans into God's ear and pleads my case, reminding His Dad that it's not easy being here, being human.
He rehearses what it was like to come to Earth and wear the same flesh suit I wear, walking this hard, dusty ground; totally immersed in what it is to be one of us; hungry, tired, thirsty, in pain, rejected, despairing, alone.
He understands I'm having a hard time, struggling under the weight of my affliction, breaking under the heaviness of my pain and pleads with the Father to provide extra mercy, a little more grace, to pour out some additional love from His endless supply; reassuring the hosts of Heaven that I'll come around.
I'll be alright.
When it's all said and done I will come out of the furnace refined like pure gold, shining a little more like the beautiful gem that I was made to be.
This adversity will transform me, "for I know that all things work together for good to them that love God, to them who are the called according to His purpose."Romans 8:28
I'll say like Joseph, "..you meant evil against me; but God meant it for good." Genesis 50:20
I'll say with Apostle Paul," But this happened that we might not rely on ourselves but on God." 2 Corinthians 1:9
In everything.
At all times.
And especially when life is too hard to bear.
In God I will trust.
"When there's no getting over that rainbow, when my smallest of dreams won't come true I can take all the madness the world has to give, but, I won't last a day without you." ~ From the song, 'I Won't Last A Day Without You' by The Carpenters~
2 Corinthians 4:7-10, 17-18 "But we have this treasure in earthen vessels, that the excellency of the power may be of God, and not of us. We are troubled on every side, yet not distressed; we are perplexed, but not in despair;  persecuted, but not forsaken; cast down, but not destroyed; always bearing about in the body the dying of the Lord Jesus, that the life also of Jesus might be made manifest in our body…For our light affliction, which is but for a moment, works for us a far more exceeding and eternal weight of glory; While we look not at the things which are seen, but at the things which are not seen: for the things which are seen are temporal; but the things which are not seen are eternal.".
  2 Corinthians 12:8-10 "Concerning this thing I pleaded with the Lord three times that it might depart from me. And He said to me, "My grace is sufficient for you, for my strength is made perfect in weakness." Therefore most gladly I will rather boast in my infirmities, that the power of Christ may rest upon me. Therefore I take pleasure in infirmities, in reproaches, in needs, in persecutions, in distresses, for Christ's sake. For when I am weak, then I am strong."