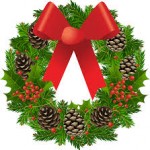 As the calendar counts down to Christmas Day, I'm asked this question everywhere I go, "Are you ready for Christmas?"
The nuance of this question is understood in American culture to mean: is the wreath hung, the tree decorated, the lights and garland strung? Is the gift list shopped and wrapped, are the cards mailed and the cookies baked. Has every pageant, program and party been attended and have fixings been purchased and prepared for the holiday feast?
Have I made my list, checked it twice and run myself ragged until I'm not nice? Am I so weary when Christmas comes, all goodwill fades and I am undone?
If Christmas is only about the doing, I might as well cross it off the calendar. If all the external tradition and trappings, of the picture perfect Christmas were removed, could my heart still find joy in the season?
There were many who were not ready for Christmas when it first arrived.
It was a busy time. Caesar had called for a tax census and people were suddenly traveling to their place of birth, juggling finances for the trip and tax, waiting in long lines to register and complaining about the latest greed and ineptitude of the government.
Except for a group of Wise Men and a few Shepherds, most folks were inconvenienced, impatient and unprepared.
The Religious Leaders weren't ready.
King Herod wasn't ready.
The Inn Keeper wasn't ready.
The Town of Bethlehem and its many visitors weren't ready.
An entire population of people missed a momentous event going on in their own backyard.
The Christ of Christmas had come, but there was so much to do and no time to notice.
Jesus came and Emmanuel, God With Us, is still here.

Do I recognize Him? Have I taken time to notice?
Those who understand the real meaning of Christmas should be ready everyday, any moment, all the time.
I'm ready for Christmas.
Are you?
John 1:10-14 "He was in the world, and though the world was made through him, the world did not recognize him. He came to that which was his own, but his own did not receive him. Yet to all who did receive him, to those who believed in his name, he gave the right to become children of God—children born not of natural descent, nor of human decision or a husband's will, but born of God. The Word became flesh and made his dwelling among us. We have seen his glory, the glory of the one and only Son, who came from the Father, full of grace and truth."