It's been so since the beginning – God – just wanting to be with us.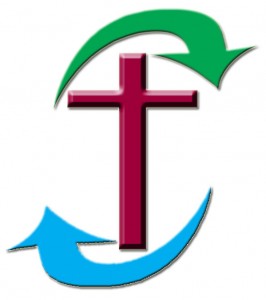 "God created man in his own image, in the image of God he created them; male and female he created them." Genesis 1:27
He created us for relationship, friendship, love. He wanted to hang out with us, come down from the Heavens in the cool of the day and walk and talk with us in the beauty of His earth creation.
 Then one poor choice ruined everything.
"The man and his wife heard the sound of the Lord God as he was walking in the garden in the cool of the day, and they hid from the Lord God among the trees of the garden.  But the Lord God called to the man, "Where are you?" Genesis 3:8-9
Throughout history God continued to call mankind back. He came and spoke in many ways: through clouds, pillars of fire, a burning bush, and a golden box filled with Himself, signs, wonders, miracles, prophets, judges, priests, kings.
Until Jesus arrived – 'Emmanuel, God with Us' – proving His desperate longing for me and you and providing us rescue from all our poor choices.
The end will culminate with God returning to His original plan. John saw it in a Heavenly vision and was told to write it down so we would know…God still wants us.
"Then I saw a new heaven and a new earth, for the first heaven and the first earth had passed away… And I heard a loud voice from the throne saying, "Look! God's dwelling place is now among the people and he will dwell with them. They will be his people, and God himself will be with them and be their God." Revelation 21:1-3
In the beginning, God created out of desire, longing and love for us. And that is exactly how it will begin again in the end; a new creation, a new earth where He can finally physically dwell among us.
All He has ever wanted is you and me. No other god or human ever has or ever will go to such depths to demonstrate love.
How is it that we go to such depths to refuse Him?
When it comes time for the creation reset button to be pushed, I don't want God calling for me, "Where are you?"
I'll be right here. Still waiting and reaching in desperate gratitude for the One who loves me like no other; for the One who's greatest yearning is to be with me.
Forever.
1 Corinthians 3:16 "Don't you know that you yourselves are God's temple and that God's Spirit dwells in your midst?"