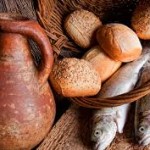 In John chapter six, the account of Jesus feeding the five thousand at some remote place along the Sea of Galilee, we find the five barley loaves and two fish Jesus 'borrowed' belonged to a child.
Of the five thousand men plus some women and children who showed up in the middle of nowhere to check Jesus out, didn't anyone else think to bring food or was this boy the only one in the crowd willing to share what he had?
Then another question comes to mind. Who packed his lunch?
My guess? His mom.
It was probably another busy day. Bread to be made. Water to be drawn. Mouths to be fed. So much work to be done. But she packed her boy's lunch and as Jesus took it, blessed it and miraculously fed a multitude, I doubt this kid was ever the same.
Jesus touched his lunch and his life.
The story doesn't tell us who took the twelve leftover baskets home. But I bet it was the little boy and his family. Mom had no idea what would come back to her later that day.
They had food enough for a week, bread and fish touched and blessed by Jesus, the best leftovers ever, all because a mom got up in the morning and packed her kid's lunch. Again.
Mom, are you're bored with the ordinary tasks of your daily life thinking they or you don't matter? Another meal to cook, another diaper to change, another load of laundry, another floor to sweep, another lunch to pack, another drive to school and another trip to the ball field equate to greatness when Jesus is in the midst of it.
He will take your small, mundane and seemingly insignificant efforts, bless them and multiply them back to you and your family.
The repetitiveness of mothering will multiply, day after day and year after year, until your children are grown and beyond. Every little thing you pour out and into them, comes back to you in exponential ways.

So get up today, tomorrow and the next day and do it again 'cause it takes a Mom to pack a lunch Jesus delights in sharing with others.
John 6:1-13 After this, Jesus went to the farther side of the Sea of Galilee—that is, the Sea of Tiberias. And a great crowd was following Him because they had seen the miracles which He performed upon those who were sick. And Jesus walked up the mountainside and sat down there with His disciples. Jesus looked up then, and seeing that a vast multitude was coming toward Him, He said to Philip, Where are we to buy bread, so that all these people may eat? But He said this to test him, for He well knew what He was about to do. Philip answered Him, Two hundred pennies' worth of bread is not enough that everyone may receive even a little.  Another of His disciples, Andrew, Simon Peter's brother, said to Him, There is a little boy here, who has five barley loaves, and two small fish; but what are they among so many people?  Jesus said, Make all the people sit down. Now the ground was covered with thick grass at the spot, so the men threw themselves down, about 5,000 in number.  Jesus took the loaves, and when He had given thanks, He distributed to the disciples and the disciples to the reclining people; so also with the fish, as much as they wanted.  When they had all had enough, He said to His disciples, Gather up now the fragments, so that nothing may be lost and wasted.  So accordingly they gathered them up, and they filled twelve baskets with fragments left over by those who had eaten from the five barley loaves.