I arrived home from church yesterday, after a wonderful service themed around honoring mothers. My breakfast nook was bright with a beautiful medley of flowering plants in a pretty container-a gift from my husband.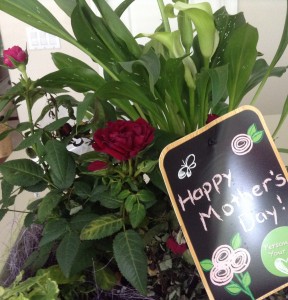 A dozen red roses adorned my kitchen counter, a striking orchid was on display in the middle of the kitchen island, and my pantry was stocked with more tea flavors to add to my already ridiculous collection-a gift mailed to me from my youngest son and daughter-in-law;  signs that I'm not forgotten on Mother's Day.
After Jon's caregiver left, I knocked lightly on his bedroom door and peeked in. "Hi Jon, how ya' doing dude? We just got home from church."
He didn't respond or look up.
"Do you remember today is Mother's Day? How would you like to take me out for lunch today? I'd like to spend the day with you and Dad and I'm hungry. Are you?" I smiled even though he wasn't looking at me.
Jon's face turned to a scowl, the one that could mean in this moment, 'don't bug me', 'I don't want to go', 'get out of my room' or something similar. But I know him well enough to realize he could change his mind if I  leave him alone for a while.
"Ok then, you think about it," I said optimistically, "and come out when you're ready but don't take too long because Dad and I are hungry now. If you wait too long it will be too late to go,"
I shut the door and hoped.
Thirty minutes later I asked again and was met with the same response.
As the afternoon went by I realized his closed door was a "No" answer so I put a pizza in the oven, made a salad and Mike and I ate a late lunch.
I talked to a mom over the weekend whose only child is serving prison time. She tearfully told me how she raised him right, taught him morals, values and to put God first in life. She wanted him, loved him, worked hard to put him through private school and college and did everything she knew to be a good mom. But he grew up, made some poor choices and now both of them are living with those painful consequences.
As she poured out her heart, my own broke for her. I began thinking how this mothering thing doesn't always turn out the way we want or imagine.
What we really want and need from our kids, is the same thing they want and need, as children, from us. We want them. Their time, their presence in our lives, their love and maybe more so after they've become adults. Maybe as our kids need us less, we need them more. We want hugs, big ones, real ones, not those sent over distance, Facebook posts or text messages (though I'll gladly take those if that's all I can get).
I appreciate the gifts, flowers, chocolate, tea and dinners but my deepest longing is to know, I'm not forgotten and my kids still love me – their flawed, mistake laden and very human mother.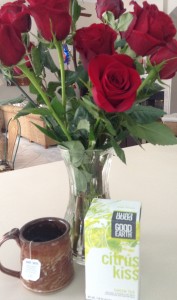 Instead, some moms get a son in prison, a child passed away too soon, a miscarriage or infertility, a daughter who is estranged from them or a child like mine, who doesn't know how to express himself clearly. And for these moms, Mother's Day and everyday comes mixed with a bit of sadness.
Jon finally came out of his room long after the sun went down. I was relaxing in the family room in my favorite chair reading and drinking a cup of my gift tea. He found his dinner in the fridge and scavenged around in the pantry looking for snacks. Then he came next to my chair and stood there, his eyes flitting back and forth from the floor to my face.
I looked up and smiled. He smiled back then began singing an enthusiastic version of some Disney song while playing his 'air' guitar. He stayed near me smiling and singing nearly twenty minutes, glancing my way constantly to see if I was watching him.
I knew what that meant. "I see you Mom and this is what I have to give you on Mother's Day. It's the best I can do. I hope it's enough."
What I really want from him, he can't give me. What I need from him, he still needs from me; to be recognized, acknowledged, affirmed and loved exactly for who he is.
There are no hugs, no sentimental cards, texts, Facebook posts, I love you's or gifts from Jon on Mother's Day but I receive with a little sadness and a lot of thankfulness the very best he can give me. A silly Disney song that says, "I know you're still here."
My oldest son didn't take me out to lunch and my youngest son lives too far away and couldn't be here but I know I am loved, even when life doesn't play out exactly the way I hope, even when I wish for more.
So for all the mothers whose special day tends toward a measure of disappointment…
You are strong. You are resilient. You are amazing.
Contentment is learning to accept what is and finding peace inside it.
I pray you find God's peace and unexplainable contentment in all of your unique, painful and incredible mothering moments.