My friend was married a few days ago. As 'best woman' I stood with her, my heart about to burst for joy,  knowing what a long, long walk it was to that ceremony.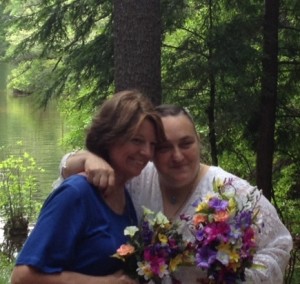 And I'm not referring to the stroll from the parking lot of the New Hampshire state park, up the frost-heaved sidewalk, onto pine needle dusted soil and down the center of the outdoor pavilion to a wall size fireplace, where the wedding took place.
I'm talking about a lifetime of hurt, pain, shame, guilt, addiction, rage and change.
We are often victims of man's free will. It's natural to recoil when wounded, especially when the hurt isn't our fault. Then reactions become decisions, piling up and building insurmountable walls of defense.
During the past twenty years I watched my friend kick, scream, cry, fight and forgive for a hard won freedom. She was willing to do what it took to excommunicate the demons of her past and experience an internal peace and liberty.
She faced every challenge head on. It wasn't easy. And required unusual determination, endurance and more time than most are willing to wait.
I was privileged to walk beside her for most of the process.
We talked, laughed, prayed and cried through many hurdles as she gave in and gave up to the beautiful grace of God at work in her heart, over and over and over again. As the years flowed by I watched a slow but amazing metamorphosis; a hard, angry heart turned marshmallow soft, a dry lump of clay gently crafted into a useful vessel of outpoured love.
The butterfly has emerged from the dark days of the cramped cocoon to fly freely into joy.
There is no sin, no shame, no wound, no hurt, no scar that the merciful love of our Heavenly Father cannot heal when we surrender our life to Him. He takes any and every broken and yielded piece of us and makes it new. He restores all damage, makes us whole, forever erasing the pain of yesterday.
When God renews, old things are passed away, sorrow and ashes turned into beauty. We are raised up to a life filled with promise and a future full of hope.
I've watched and tasted this. In myself, in others and especially in my beautiful friend who at long last has been restored to love and trust; so evidenced by the large and diverse group of people who came to celebrate this special day. God's love was tangible, undeniable, surrounding all of us.
Knowing we are loved changes everything.
My friend finally knows, without a hint of doubt, she is valuable and she is loved.
Of utmost importance, by God.
Also by others.
And by the incredible guy who took her as his bride.
Freedom is such a beautiful thing.
     John 10:10 "The thief's purpose is to steal, kill and destroy. My purpose is to give life in all its fullness." ~Jesus
     2 Corinthians 3:17 "Now the Lord is the Spirit; and where the Spirit of the Lord is, there is liberty."
     Luke 4:17-18 "..the scroll of the prophet Isaiah was handed to him [Jesus]. Unrolling it, he found the place where   it is written: "The Spirit of the Lord is on me, because he has anointed me to proclaim good news to the poor. He has sent me to proclaim freedom for the prisoners and recovery of sight for the blind, to set the oppressed free.."
     "Everyone wants to change the world but no one thinks of changing himself." ~Anonymous