Jon is into cutting. But not in the same way or for the same reasons as other people.
He cuts sleeves off shirts, toes off socks, slits in the center of our bath and dish towels, legs off his father's pants and hem strips off sheets and bed skirts.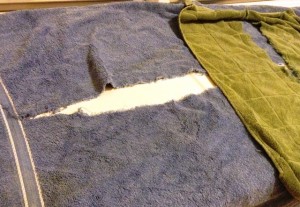 Yesterday I took him to Dunkin Donuts/Baskin Robbins. He dressed in his finest: a sawed off sleeves, blue T-shirt with two belts tied around his waist, one made from a strip of a nice, fluffy over sized beach towel he repurposed and the other, a bright orange and white flowered cloth tie belt he took from my closet.
When I'm tempted to be annoyed about this mysterious (and money wasting) behavior, I stop and remind myself to be thankful Jon's not harming himself. He has his own brand of creative fun going on in his very unusual and imaginative brain.
And it's just stuff. I can always go to Walmart and buy more cheap, made-in-China towels and T-shirts for him to cut up. It's all replaceable. He isn't.
Hanging out with Jon gives me an entirely different way to look at life and teaches me how to relax about little things that don't really matter. While Jon is cutting up stuff in our house, God is cutting away the Me that wants to rise up and demand life always go My way.
God uses the people in our lives, yes; even those with annoying habits, to instruct us, change us and expose areas where we need to improve. There is nothing more liberating than letting go of the unrealistic expectations we have for others.
Ask God to help you look at those frustrating, annoying folks around you through His eyes, with His heart. Then look inside yourself and let Him transform you so you can love freely, unconditionally and without barriers.
The same way Jesus loves me and you.
 Philippians 2:3(ERV) "In whatever you do, don't let selfishness or pride be your guide. Be humble, and honor others more than yourselves"
Proverbs 27:17(NIV) "As iron sharpens iron, so one person sharpens another."