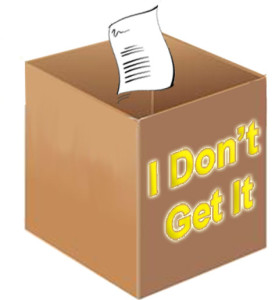 I now own a virtual "I Don't Get It" Box. It was delivered to me over the weekend after a conversation I had with a good friend. She's had a tough year and great loss.  We talked about  faith, and how it processes us through life circumstances that are more than difficult.
Sometimes stuff happens that doesn't fit into our neat and tidy theological boxes. We can't check them off our doctrinal lists. Things happen that we can't explain and we have no idea which  (thought-I-had-this-all-figured-out-already!) category to file them under.
After this conversation with my friend, I woke up the next morning with a picture in my head. Some people call them visions or awake dreams. Call it whatever you want, but I saw me with a long line of people stretched out endlessly behind me, standing in front of a huge box inscribed with a large glowing font that said,
"I Don't Get It."
Everyone in line, including me, had a piece of paper in hand. I had written on the paper, parts of my life I question, things I don't understand and circumstances I have faced or still face that are confusing and seem to have no answers.
I stepped up to the box and threw my paper in. When it hit the bottom the font on the front of the box changed and began to flash in bright neon over and over again,
"Just TRUST Me. Just TRUST Me. Just TRUST Me. Just TRUST ME…."
I may not 'get' many things but I get this message loud and clear. I don't need to analyze, understand, explain and figure everything out.
I can't know everything because knowing ALL would make me God. Wasn't that we could be like God by eating the only off limits fruit from the tree of knowledge of good and evil, the original lie of the serpent?
Man fell for the deception. He believed it. Do we still?
God wants our trust. He wants us to believe Him. It's all He's ever wanted. So I lay aside my need to know and simply trust..
Because God,
I believe You are good.
I believe You are love.
I believe You are faithful.
I believe You are merciful.
I believe You desire only the best for me,
Today, no matter what happens, how I feel, whether I understand or not, I throw it all into my "I Don't Get It" box and…
Just Trust You!
 "You will not certainly die," the serpent said to the woman.  "For God knows that when you eat from it your eyes will be opened, and you will be like God, knowing good and evil." Genesis 3:4-5
 "Those who know your name will trust in you, for you, LORD, have never forsaken those who seek you." Psalm 9:10

 "Trust in the LORD with all your heart and lean not on your own understanding; in all your ways acknowledge him, and he will make your paths straight." Proverbs 3:5-6
"Do not let your hearts be troubled. Trust in God; trust also in me. John 14:1