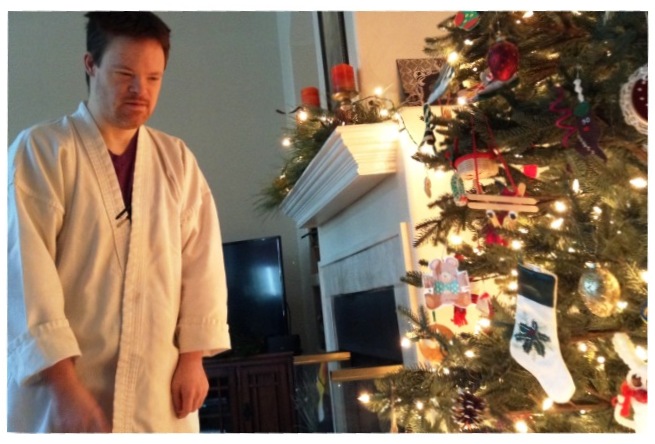 Jon doesn't ask for anything for Christmas. He might circle a movie or toy in a Christmas sale flyer he finds hanging around the house occasionally, but if you ask him what he wants you won't get an answer.
Here's a list of some gifts Jon received for Christmas this year:
Two Tom and Jerry cartoon DVDs
Two large print, word-find books
A pink spiral notebook with a heart on the front (yeah, he likes pink)
A McDonald's gift certificate
A Wendy's gift certificate
A dollar store gift certificate
$20 worth of one dollar bills
A box of Goldfish Crackers
Two superhero puzzles
A bar of money soap (a hint to take a shower Jon, please)
A plastic toy grabbing tool thing
Play money in a cash drawer
A plastic police badge
An orange plastic police vest
Our Christmases with Jon aren't typical and are probably best described as slow, quiet and even a bit boring. But, with the passing of each year,  I appreciate more and more, the gift he is to us; all the ways he keep me grounded, continuously reminding me of what really matters.
Especially at Christmas.
Sometimes I'm struck by the simplicity of his life.
Sometimes I'm envious of it.
Sometimes I'm sad for the classic milestones he will never experience.
Most of the time I don't think about it at all.
I just love him for who he is as he slowly opens, inspects, then carefully packs all his presents into a gift bag and carries them off to his room, adding them to the collection of items I'll need to clear off the floor next time I vacuum.
You may not have a Jon, but I pray you have something, someone or a moment in this season to insert a slow down and reflection, on the most important treasures of life; a God who proved in the very event of Christmas, He accepts you with a love undeserved. And the people in your life, who stick around for the long haul, willingly to jump, head first if necessary, into every joy and sorrow.
Merry Christmas and a blessed New Year to all!