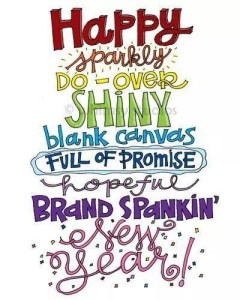 Since I was a child, I've always felt the shift of the clock from 11:59 p.m. on December 31, to 12:00 a.m. on January 1, should be magical, fantastical, miraculous; as if something incredible should happen at the very second a year flips over.
Shouldn't the problem I've struggled over all year suddenly have resolution, or money fall from the sky like confetti in New York's Times Square, or people desperately seeking restored health be instantly healed?
Shouldn't broken hearts be renewed and shattered relationships repaired, mobile phones ringing and buzzing with offers of love and forgiveness?
Shouldn't Jon come out of his room with a huge hug and Happy New Year wishes, and loved ones who've passed on, walk smiling through my door, shouting, "Hey! I'm back!"?
You know…amazing stuff like…answers. Reversals. Miracles.
I wait for it every year. Deep inside I admit to expecting it. But another new year seems to come and go as ordinary as most days. We celebrate it for a few hours, the fireworks fade and we wake up the next morning to another sunrise. Another start. Another chance. Another twenty four hours.
What is it about a new year that makes us yearn for more?
I think it's hope. Hope is defined as desire accompanied by anticipation, expectation and confident belief. Hope is central to our very existence.
1 Corinthians 13:13, combines "faith, hope and love," with love being the greatest. But how is love even possible without faith and hope? When hope walks out, all other longing goes with it. Proverbs 13:12 says, "Hope deferred makes the heart sick, but a longing fulfilled is a tree of life."
The human heart has an incredible capacity to keep hope alive, even in the darkest times; to keep wishing for perfection, beauty, solutions, joy, and love. It shouldn't surprise us, for we are made in God's image, and He is all these and more.
There is a spark of hope in us that ignites new promise for a new year.
Maybe this year I'll get that raise or promotion. Maybe this year I'll meet that special someone. Maybe this year my situation will turn. Maybe this year my health will improve. Maybe this year my sorrow will turn to joy. Maybe this year will be my break through.
Last year was hard, but it's over. This year will be better.
I hope.
We can't know what a year will bring, but of this we can be certain: God will be in this New Year with us, just as He always has been. He has not forsaken us, even though we may not feel Him near. His mercy is new and available every morning and His love for us is endless. He can be trusted with our future.
As the year before us unfolds, my hope and prayer is, "May the God of hope fill you with all joy and peace as you trust in Him so that you may overflow with hope by the power of the Holy Spirit," Romans 15:13.
The best of blessings to you and yours in the days ahead. May your year be abundant with hopes fulfilled.
image credit: http://www.freshpickedwhimsy.typepad.com/