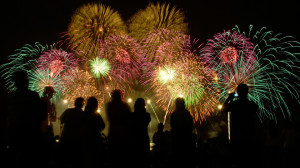 It's July 4th. Independence Day. The great American holiday.
People are celebrating the founding of our nation by going to the park, the lake, the beach, to a cookout with friends, a get together with family, or to a fireworks display.
Before or after a holiday the common question is, "What are you doing/did you do for the holiday?"
My answer is always the same. "Depends on Jon." or, "Stayed home with Jon."
We're often invited to something, somewhere by someone on these special occasions. It's not that friends purposely leave us out. "Oh just bring Jon with you," they say.
And it's not that we don't want to go, we just never make it. Jon doesn't care about being on time or if it's July 4th.  He doesn't like crowds or fireworks. Last night, as the neighbors set fireworks off all around us, he stayed in his room yelling, "Shut Up!" over and over again at the outdoors.
So others go and we stay home, learning how to celebrate without joining the masses of those 'going' and 'doing'.
Because of this, I appreciate the true meaning of holidays in ways I never use to. Limits force what is taken for granted, to a place of greater meaning.
Today has been a day of simplicity. I've looked up some 'reminding myself' history on the founding of our nation and listened to several renditions of "The Star Spangled Banner" on YouTube.
We fertilized and watered all our plants then, surrounded by their colorful beauty, cooled off by floating in the pool for a while,
We broke away from our mostly plant food eating plan to celebrate in proper, God Bless the USA, style. Mike went to the store to look for no nitrate, no msg, no hormone, all beef hot dogs (hot dogs and rolls taste so much better when you hardly ever eat them!) and devoured them with corn on the cob and watermelon.
Americans are often bored and dissatisfied unless something monumental is going on. I know. I was one of those. Once.
Going. Always going. Doing. Always doing. Restless. Wanting. Miserable.
Be careful of a mindset that says we must constantly do huge, exciting things to enjoy life.
It's not true. Don't fall for the lie.
Most of us have a lot of what we want and everything we need, so be thankful in the still and overlooked moments and, in spite of our troubles and problems, the blessing of living in the greatest nation on planet Earth.
If you're out somewhere celebrating our American Independence today, enjoy. But don't forget to take time to remember what you're celebrating. And don't forget to explain it to your children so they can develop a sense of significance and appreciation for the day. If the meaning behind this day is important to you it will be important to them as well.
The gift of freedom should never be undervalued nor should learning the art of contentment in going or staying, being or doing, having or wanting.
Don't live out of the constant dissatisfaction of What Is Not. Instead discover the joy and fulfillment of living in What Is.
Right here.
And right now.