Mike was in a large, busy place when Jon emerged from the crowd and walked toward him.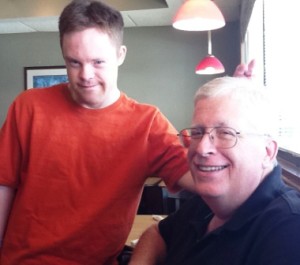 "Hi Dad."
"Hi Son."
They embraced, then sat and chatted for a while, reminiscing about Jon's childhood, "Do you remember the time when..?"
They laughed at the memories.
"Yes, I remember," Jon said. "I remember everything you've ever done for me. Thank you."
"Why did you do some of the things you did, Jon? We were always just trying to help you. Why were you stubborn and so mean to mom and me sometimes?
"I don't know. I'm sorry."
"It's OK, I forgive you. I've always forgiven you, because I've always loved you."
"I know Dad. I know."
Mike woke up suddenly, filled with joy in having had a real conversation with his son, at last.
But it was only a dream.
In sleep, our heart can reveal what it secretly longs for; the subconscious can give us a taste, a tease, of how it could be. Waking up can bring disappointment or offer us hope. Depends on what we choose to believe.
I believe such a conversation will take place some day, maybe not here on Earth, but when we're all together on the other side of this life.
There's nothing quite as reassuring as the hope of Heaven, where all things will be put right and all things will be made new.
Revelation 21:4-5 "and He will wipe away every tear from their eyes; and there will no longer be any death; there will no longer be any mourning, or crying, or pain; the first things have passed away." And He who sits on the throne said, "Behold, I am making all things new." And He said, "Write, for these words are faithful and true."…