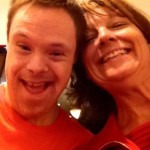 It's no one's fault," the doctor in my hospital room said, the morning after our son was born. "These things just happen sometimes."
Our newborn baby had Down syndrome and as the doctor began to explain the possible long term outcomes for him and our family, my heart raced in panic. My mind filled with a cloud of fear.
"NO! This can't be happening! Not to my baby! Not to me! Not to us!"
Isn't that how it goes when we're faced with circumstances beyond our control? When our carefully thought out plans are suddenly ambushed?
We're cruising through life, a few bumps and glitches here and there, but nothing we can't handle. Then suddenly..Wham!!
We find, not just the proverbial rug pulled out from under us, but the floor too. The ground has just opened up and swallowed us whole!
And when we're done free-falling, we have to find a reason. The 'Why' must be answered. It has to be SomeOne's or SomeThing's fault.
A friend sent me a card once that read, "Life is all about how you handle Plan B."
Plan A is what you want. Plan B is what you get and I wasn't dealing well at all, with what I got.
I fell into absolute despair trying to figure out what I did to cause my child's disability. For months it filled every waking moment and many sleepless nights. Those pesky, "I should have" and "I shouldn't have" scenarios, plagued my thoughts constantly.
There was plenty of help in the guilt department from well meaning folks. Everything from, "You should of eaten more potatoes while you were pregnant," (no kidding) to "You must have bad sin hiding someplace in your life for God to punish you like this."
Apparently there was a rash of babies born with Down syndrome at the time. In an attempt to find a common denominator (or something to blame) the Department of Health and Human Services for the State of New York called when Jon was about a month old to ask if they could survey me.
"Do you live near power lines? How long have you lived there?"
"Have you ever taken drugs? Did you take drugs while pregnant?"
"How often do you drink alcohol? Never? Occasionally? Once a week? Everyday?"
"What kind of make up do you wear? What brand of laundry detergent do you use?"
After an hour long barrage of questions, I hung up the phone more convinced than ever I was the cause of my son's diagnosis.
When I finally gave up blaming myself I turned my angst on God. He could have prevented this but didn't. It was His fault and I was mad. What kind of God did I believe in anyway? An overwhelmingly devastating question for me, since we were fresh out of Bible college and my husband was just beginning a lifetime of pastoral ministry.
Though it seemed artificial to be so angry at God when my husband was a pastor, and I, the pastor's wife, anger was all that made sense at the time. It was the easiest life raft to cling to.
We see it in the daily news continuously. A crisis occurs, a shooting, tornado, flood, fire, mudslide, plane crash, death, violence or destruction. The talking heads start in, opinion-ating, analyzing, philosophizing and finally conclude with, "Something must be done to make sure this never happens again."
Either people want to believe they have this much power, this much control, or placing blame is just a coping mechanism for the unanswerable and unexplained.
Sometimes there is someone to blame but more often not. Sometimes stuff just happens because we live on a fallen, broken and sin cursed planet.
Finding possible solutions is useful but the blame game often goes around in a monotonous circle until we are divided and estranged, from each other and from our only source of hope. God.
It seems God is blamed for most everything that goes wrong, by people who barely acknowledge His existence the rest of the time or bother to thank Him for any of the good and right in life.
In his book, Reframe. From the God We've Made to the God With Us, Brian Hardin said it this way: "We don't usually start with God, but if we can't find an answer we often end up there. God has become the cosmic trash heap for all humankind's unexplainable suffering. He's apparently got His hands in everything from tornadoes to human trafficking. From cancer to the reason the car wouldn't start this morning. And this is the God we're supposed to be in a relationship with?"
If there's one thing I've learned, it's this: I can't control everything that happens to me, to those I care about or to the world at large. And I don't have to figure everything out, don't have to know all the answers.
I only have to admit and own what I'm responsible for and trust my Heavenly Daddy has a greater plan and purpose than I can see.
He will bring justice in His time. He will make everything right in His way and acceptance of this truth, deep in my heart and soul, not just my head, brings peace in a frenzied world.
And for all my initial distress, despair, crying, sighing, shouting and blaming, my son turned out to be a blessing, a unique treasure God values and loves. Someone who is always teaching me the art of selflessness, drawing me closer to the heart of my Father.
I eventually laid it down, the miserable scrutinizing, finger pointing and fretting over who or what was at fault. It was exhausting and served no purpose. Blaming drained life from me and returned nothing.
The blame game was over and I lost.
But I'm no longer a sore looser, just a grateful one.

Job 40:1-5 The Lord said to Job: "Will the one who contends with the Almighty correct him? Let him who accuses God answer him!" Then Job answered the Lord: "I am unworthy—how can I reply to you? I put my hand over my mouth. I spoke once, but I have no answer—twice, but I will say no more."
Romans 9:20 "Who do you think you are to talk back to God like that? Can an object that was made say to its maker, "Why did you make me like this?"
John 16:33 "I have said these things to you, that in me you may have peace. In the world you will have tribulation. But take heart; I have overcome the world."