This year, as the calendar would have it, I experience Jon's birthday and Mother's Day just a few days apart.
Jon's birthday never goes as (we) planned. We wanted to take him out, he didn't want to go. We had cake, balloons and gifts ready at 11am, he stayed in his room until 7:30 pm. He wouldn't let us sing "Happy Birthday" to him, he wanted to play "Bad Moon Rising" on YouTube instead (??!!).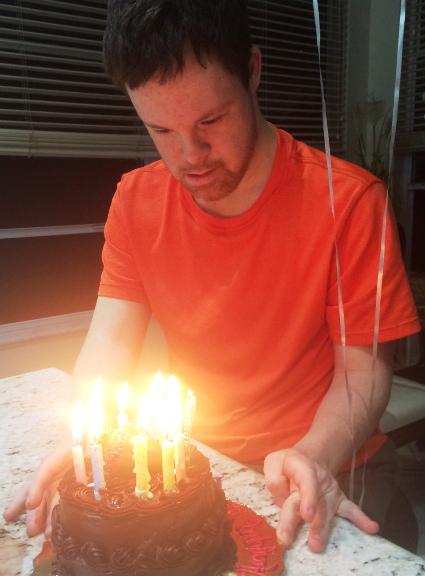 The candles had to burn all the way down to wax craters inside the top of the cake before he'd blow them out. Mike waited up until 11:30 for gift opening to commence and couldn't last any longer. He went to bed and gifts were finally completed at 12:45 am, with me falling asleep on the sofa. Jon was just getting started.
He's thirty-six now. I'm not really 'raising' him anymore. Those days are over and he sorta' does what he wants around here. But I'm not really done parenting him either or maybe it's more of an advisory enforcer role, reminding him to shower, shave, take his meds, not wander away and to quit hijacking kitchen utensils he doesn't use and bills from the desk drawer, he'll never pay.
I drag him to doctor and dentist appointments and talk him into getting a haircut whenever he starts getting the caveman look.
We're caught in a weird time warp somewhere between unreasonable toddler, love-able kid,  ornery teenager and grumpy old man. It all depends on the day or maybe the hour. There's no category for that I suppose.
Then I went to an awesome mother's lunch yesterday and it got me wondering what Mom category I fit into. The mom with the most kids, the most grandkids, the most great-grands, the oldest, the youngest, the newest, the singles and the all-done-empty-nesters were acknowledged and asked to stand.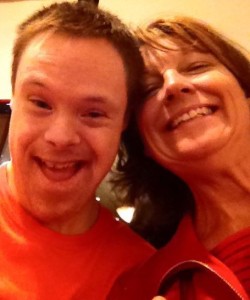 I was confused. I'm sorta' that one, but not really. I'm half the other one but not sure if half counts. So I stayed seated. Not that it matters much. Standing or sitting, I'm still two guy's mom and happy for it.
I realize Mother's Day isn't perfect for some of us. Some have loss, rebellion, prison, prodigal, estrangement, medically fragile and unusual when it comes to kids and some who want children never have them. Life throws reality at us and we mourn, cry, kick and scream for a while then get up and keep going.
God keeps us strong in all of it. We are HIS daughters, whether we have twenty kids or none, typical kids or not. He doesn't categorize or compare. We are just loved, valued and precious to Him.
So here's a shout out to all God's daughters. Whatever earth bound category you fall into (or not) may you know He delights in YOU today.
YOU are the blessed of the Lord.
YOU are the Apple of His Eye.
And YOU are His favorite (after me of course :).
Happy Mother's Day!
Psalm 115:14-15 "May the Lord continue to bless you and your children. You will be blessed by the Lord, the maker of heaven and earth."
Psalm 17:8 "Keep me as the apple of your eye; hide me in the shadow of your wings."
Zephaniah 3:17 "The Lord your God is with you, the Mighty Warrior who saves. He will take great delight in you.."