Our son, David, texted me from Wisconsin, where he, Clara and little grandson, Asa, were at Clara's parents for the week with the rest of her siblings, their spouses and kids for a family gathering.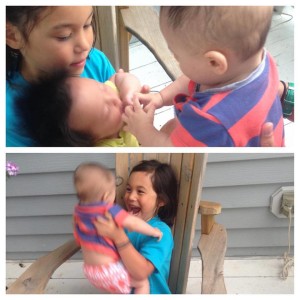 David's text said Asa was meeting his many cousins for the first time.
Without much thought my reply was, "That's fun, because he'll never have any on this side."
"Yeah, I've been thinking about that." He responded.
It hadn't hit me until this moment; David's children will never have cousins from our side of the family.
It was another 'never' moment in our life with Jon and I was suddenly saddened with a loss I fought for several days.
Loss always brings varying levels of grief and comes in many forms, through death, rejection, betrayal, disappointment, regret, hijacked hope, disabled dreams or what could have been.
We swim in this deep ocean of life, joyfully splashing, serenely floating or treading water, when loss washes over us like an unexpected wave. We're swept under by its powerful force, breathless and fearful, struggling to find air and a way to resurface.
I don't know, maybe other parents of special needs kids do this better than me, but I still experience blindsided takeovers in my life with Jon. I'm buzzing along in our daily thing, trusting God, thankful for the blessings we have when it hits again, another huge wave, reminding me of more 'nevers'.
You'd think after all these years I'd see it coming but they still catch me off guard. My heart sinks, panic and desperation threaten. I spit and sputter and cry out to God, once again, asking to be pulled from the depths of despondency.
And He does. He always does. He reminds me He understands my mother's heart. He assures me He is there to bring me through. And He keeps His promises. When the wave subsides I rise again and get back to the good in life, looking on the bright side with a completely full, instead of half empty cup, counting my blessings instead of my lack.
Asa won't have cousins here it's true, but he will have grandparents who love him. And because he has Uncle Jon in his life he will grow, as did his father, to be kinder, gentler, more compassionate and more accepting of other's differences. Our grandson will be shaped and influenced by the unique dynamic of our family in ways others cannot offer.
Each of us have opportunities to dwell on the can't, the won't and the never. Yours are probably different than mine but we all have them. It's human to be pulled under the waves of despair at times but it's NEVER okay to stay there.  Drowning is certainly an option, but not a good one.
Ecclesiastes 3:1, says there's a season for everything, so we do our grieving, kicking and flailing, then grasp the hand God extends beneath the turbulent waters of living, resurface, breathe and move on.
"Fear not, for I have redeemed you; I have called you by name, you are mine. When you pass through the waters, I will be with you; and through the rivers, they will not overwhelm you.." Isaiah 43:1-2.
Here's one 'never' I can rejoice in. There's never a need to drown in despair! My God possesses perfect life guarding skills. He will always carry me back to solid ground.
Psalm 40:2 "He lifted me out of the pit of despair, out of the mud and the mire. He set my feet on solid ground and steadied me as I walked along."
Psalm 42:11 "Why are you in despair, O my soul? And why have you become disturbed within me? Hope in God, for I shall yet praise Him, the help of my countenance and my God."
Ecclesiastes 3:1 "For everything there is a season, and a time for every purpose under heaven.."