I watched it, from my kitchen window, fluttering against the screen, desperate to get out. The butterfly was trapped. It flew in through the large roof opening of our pool frame, a hole the hurricane left behind when a screen came loose in the wind.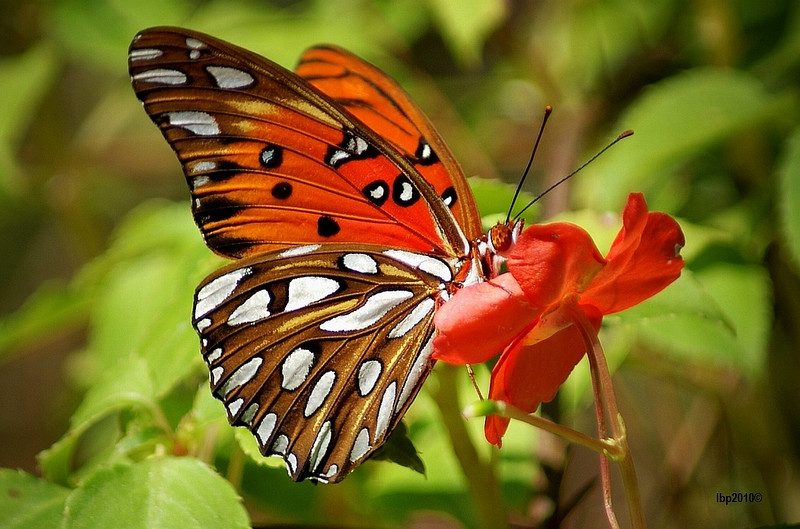 The butterfly showed no interest in the array of flowers we've planted inside, it wanted out and bumped along the side panels until it needed to rest, finally clinging to the screen instead of flying against it.
I dried my hands, grabbed a Rubbermaid container and lid and went out on the deck. I figured if I could trap it inside the container I could set it free, but it flew off before I could catch it.
I grabbed the pool scoop, the thing that looks like a large butterfly net, and followed the creature, gently swiping at it as it darted and glided above my head.
Opening the screen doors on each end of the enclosure, I attempted to guide it to freedom, but it flew too high or darted away in another direction. Butterfly obviously didn't understand my good intentions. It couldn't believe I was concerned for its welfare, though several times it was only inches from the open door.
"You're so close! Come on Butterfly. Work with me. I know this is scary for you but I'm trying to help you here. Why can't you understand, I'm just trying to help you be free?"
Eventually the butterfly exhausted itself and rested again, on a side screen, within reach and I gingerly set the Rubbermaid container over it and slid the lid underneath. The frightened creature panicked and crashed violently against the walls of the plastic prison.
I carefully carried it outside, far away from the pool enclosure and lifted the lid. The butterfly burst from captivity and soared away above the trees in a joyous dance of freedom.
In every place where my mind, heart and soul are trapped, every obstacle I so violently and fearfully bump up against, every towering wall I encounter with no escape, God is on a continuous rescue mission to set me free. He is there waiting, as I kick against my prison walls, believing I must find my own way out.
He longs to show me how to soar. He patiently moves me closer to the open door, closer to liberty, while my heart flutters in fear and my soul lifts in pride.
My Merciful Father patiently waits until I retreat in exhaustion and there, submit to the gentle nudge of His heart to my own. "Come on Daughter. Work with me. I know this looks scary and you don't understand, but I'm trying to help you. I'm just trying to set you free. Trust Me."
With gentle restriction He apprehends me, changes me, and then sets me free to rise above the challenges of my own thoughts, heart and life.
Wings are not meant to fly against obstacles, but over them. Wings take us places we can't normally go. Wings are meant for freedom.
Today, I submit to God's capture. I will Trust Him, because soon, confinement will be over.
Freedom will come at last.
And I will soar.
Isaiah 40:31(NKJ) "but they that wait upon the Lord shall renew their strength; they shall mount up with wings.."
Acts 26:14-15 (AMP) " And when we all had fallen to the ground, I heard a voice in the Hebrew dialect saying to me, 'Saul, Saul, why are you persecuting Me? It is hard for you to kick [repeatedly] against the goads [offering pointless resistance].' And I said, 'Who are You, Lord?' And the Lord said, 'I am Jesus.."
 Galatians 5:1 (ERV) "We have freedom now, because Christ made us free. So stand strong in that freedom. Don't go back into slavery again."
John 8:36 (ESV) "So if the Son sets you free, you will be free indeed."