When our boys were crawling babies and old enough to start noticing and exploring the world around them, Mike would often pick them up and carry them, through the house, outside, in malls or restaurants, just about anywhere at any random moment, and show them things up above their vision. Since they spent their entire day on the floor it was almost impossible to see or know what was up above.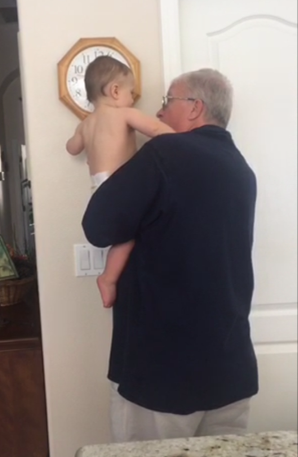 He let them touch clocks, pictures, candles and other things hanging on walls. He showed them flowers, plants, leaves, trees. He let them look out windows, took them into closets and pointed out items on shelves and walked them in restaurant lobbies to let them see whatever was at eye level.
Every item seen or touched was prefaced with, "Wow!  What is that?" Then he would name it and add a simple explanation, "That's a clock. It's round. Watch that second hand go. That's pretty awesome isn't it?"
Watching their precious faces light up at the discovery of some new wonder was priceless as they absorbed the novelties of their world and every tiny discovery in amazement.
These 'Wow Walks', as we came to call them, resulted in Jon's first word, not being DaDa or MaMa, but "Wow!"
Our nine month old crawling and exploring grandson was with us last week. The first thing Mike did when Asa was comfortable with us holding him, was take him on a "Wow Walk." He had quite a few of them while he was here, to the point where if he was fussy, his mom or dad would ask him, "Asa, do you want Grampy to take you on a Wow tour?"
The answer was a big smile and outstretched arms. His way of saying, "Yes Grampy, take me, take me."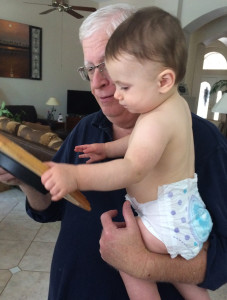 As we age and mature, we often lose this childlike sense of wonder. The responsibilities, problems and heaviness of our existence on this planet can easily mire us down, into negativity and despair; things once new and exciting as a child become commonplace. We can see a beautiful sunset, without celebrating it, walk past a rose without smelling it or look at a rainbow without contemplating its mystery. We begin evaluating others through eyes of cynicism or mistrust and miss moments of joy and beauty in everyday life.
Why are we reminded by Jesus to remain, not childish in behavior, but childlike in faith?
"Truly, I say to you, unless you turn and become like children, you will never enter the kingdom of heaven." (Matthew 18:3). I believe He knew how quickly the belief and wonder could fade; after all, He was here, walking as one of us, when He said this.
He also came to return that sense of amazement to life. Not just a, plodding along, trying to keep our head up and survive, sort of reality, but abundance (John 10:10).
Is the wonder and joy of life far from your grasp? Do the problems and struggles you face keep you down? God can lift you up.
Let Him lift you from the floor of limitation. Trust him as a small child trusts a loving grandfather. Reach for Him with outstretched arms. Allow Him to carry you higher and show you great and marvelous things. Lift up your eyes, believing there is much more above and beyond where you are right now.
Don't settle for a 'Woe Is Me' walk through life.
Make it a 'WOW' walk!
But Jesus said, "Let the little children come to me and do not hinder them, for to such belongs the kingdom of heaven." Matthew 19:14
"Truly, I say to you, whoever does not receive the kingdom of God like a child shall not enter it." Luke 18:17
"The thief comes but for to steal, and to kill, and to destroy: I am come that they might have life, and that they might have it more abundantly." John 10:10
"But you, O Lord, are a shield about me, my glory, and the lifter of my head." Psalm 3:3 
"I lift up my eyes to the hills. From where does my help come? My help comes from the Lord, who made heaven and earth." Psalm 121:1-2     
"But as it is written, eye hath not seen, nor ear heard, neither have entered into the heart of man, the things which God hath prepared for them that love him." 1 Corinthians 2:9
"Call to Me, and I will answer you, and show you great and mighty things which you do not know." Jeremiah 33:3