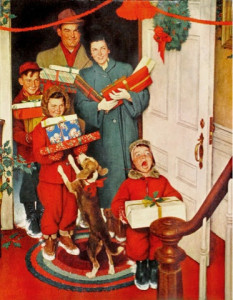 Chestnuts roasting on an open fire? Not at our house. Jack Frost rarely nips at our nose (nor do we ever dream of a white Christmas), since we live in Florida. A few Yuletide carols may be sung by a choir at our Christmas service, but since Trinity is a non-traditional, contemporary church, even that's debatable.
We will have a turkey this year, but no mistletoe and no tiny tots hanging around with their eyes all aglow. Just a Jon who gets up when he feels like it and takes five hours to open ten gifts.
According to this picture perfect Christmas song, our chances for a Merry Christmas are poor indeed. We score about one and a half out of five.
Are you feeling it right now because your Christmas isn't Hollywood perfect? Cheer up, the first one wasn't any better:
An unwed, teenage mother.
No baby shower, but plenty of rumors.
A disgraced marriage.
An annoying, inconvenient, tax-registering trip.
A baby born in a barn (with no nurse, diapers or cradle).
Scruffy shepherds as newborn visitors.
A jealous king sending out spies and assassins.
An emergency escape by night to another country.
The truth of Christmas is that God willingly jumped over-His-head-deep into the chaos of earth's struggles. The First Christmas was so…human. It was scandalous. It was messy. It was so earthly, many passed right on by. And because His arrival seemed nondescript to most, people missed its significance. And still do.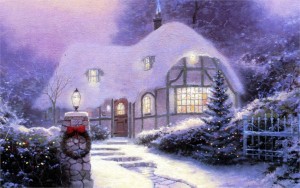 If it's not "The Most Wonderful Time of the Year" for you and a Norman Rockwell or Thomas Kinkade Christmas depiction is not happening where you are; happiness disregards you, money is tight, relationships stressed, someone deeply loved is gone and greatly missed, or possibly your only Christmas wish this year is for yourself or a sick loved one to heal, there's no need to collapse in despair. No need to feel alone. No need to be paralyzed with fear.
Real life doesn't stop for Christmas.
BUT!
Christmas came to invade every detail of our messy human existence and inundate whatever is occurring in our personal universe at the moment.
God came to us as one of us and He understands. He will walk with us through it all if we let Him. Stop, surrender and make room for Him this Season.
And have yourself a Very Merry Messy Christmas now!
"Christ, by highest heaven adored;
Christ, the everlasting Lord;
Late in time behold him come,
Offspring of the Virgin's womb.
Veiled in flesh the Godhead see;
Hail the incarnate Deity,
Pleased as man with man to dwell;
Jesus, our Emmanuel!
Hark! the herald angels sing
Glory to the newborn King!"

Home For the Holidays – painting by Norman Rockwell, 1950
Christmas Cottage – painting by Thomas Kinkade, 1990                                                                         "Hark The Herald Angels Sing," Charles Wesley, 1739