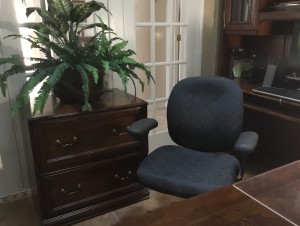 Jon came out of his room and down the hallway toward the office where my friend and I were talking, me in my office chair and she on the opposite side of the desk, in the chair Mike once occupied. Mike and I had often hung out together in this room and many engaging conversations took place from these chairs.
Jon's face lit up, as he peeked through the glass panes of the French door and the large fake fern blocking most of his view. He quickly hurried through the door then stopped, frozen, as heart wrenching disappointment flooded his expression.
This son, who rarely talks, clenched his fists, "That's my dad's chair! You are not my dad! Get out of his chair!" He yelled, his face grimacing in anger.
Surprised by his outburst, my friend stood up, looking from him to me, the 'What should I do?' question in her eyes.
As I watched this play out, a new wave of deep sorrow flooded through me. I began to cry. I understood, Jon had seen the silhouette of a person in his dad's chair and for a moment, he believed Mike was there.
My friend finally spoke, "I'm so sorry Jon. I didn't mean to upset you. I won't sit in this chair anymore if you don't want me to."
Anger was suddenly replaced by sadness. Jon turned, leaned his head against the filing cabinet and began to cry quiet, trickling tears.
I wanted so much to wrap him in a long embrace and cry with him but I knew he would never allow it. Attempting to maintain some composure for this grieving son who desperately needed comfort, I went to him and placed my hand on his shoulder. Barely. Only touching his shirt really, not his skin.
"I'm so sorry Honey. I know you thought that was Dad in his chair when you first looked. But remember, he's not here anymore. I know that makes you sad, angry and disappointed all at the same time because sometimes it does me too. I'm so sorry you have to go through this. I know you miss him."
He wrenched his shoulder back and threw my touch away, anger surging through him again. We faced several more tidal waves of emotion as Jon processed his disappointment. Eventually he quieted and went to the kitchen.
Last night, this text came from my other child.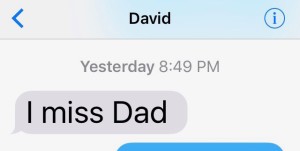 And my heart breaks again.
My sons are still reeling from the loss of their father and the empty chair is but a reminder of what an amazing, caring, family man Mike was and how severely he is missed. I wonder at how blessed we were to have Mike in our days and how we'll learn to move forward without him here. We each had our own way of leaning on him and loving him. His absence is an emptiness, a large sink hole, pulling us in with an unrelenting ache of sadness.
I pray for my children in their sorrow. I pray at some point, the weeping of this long night will be replaced with a renewed joy (Psalm 30:5) for all of us. I pray God will fill the emptiness of our hearts with His overwhelming love and goodness.
I pray…pray..and pray. From the empty chair.
Psalm 147:3 "He heals the broken hearts and binds up their sorrows."