Jon was in his room, Mike had gone to bed and the house was quiet. I was in the family room reading a book when my phone's text notification sounded.
I finished the paragraph I was reading, swiped the lock screen off and hit the message icon.
This text popped up: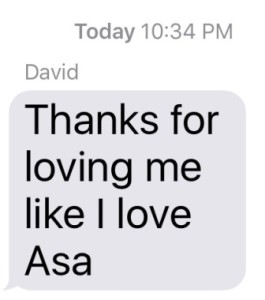 I read it, re-read it. And read it again.
I don't know what prompted my son to send this or what he was doing when he wrote it.  He's a new father who is discovering how much a parent loves a child and what that entails.
I also don't remember reading anything that touches my heart the way this simple, random text does.
The years of pouring into, providing for, caring, loving, hugging, teaching, disciplining, laughing with, crying over, worrying about, not giving in or up; all those hours invested in David, summed up in one eight word sentence.
There are no words to describe the fulfillment and joy it brings.
Those raised in dysfunction, abuse, conflict, abandonment, addiction, fear, neglect, anger or the myriad of other human frailties that cause physical and emotional scars, can change the trajectory for your children.
As imperfect parents we can still decide That stops here, whatever the That is, we can choose to not pass it on to another generation. By God's power and strength we can be the parent our child needs us to be.
We can change. Be different. Make a difference. Forge a new family legacy constructed of grace, mercy, endurance, and forgiveness.
God set the example. He too says, "Thank you for loving Me like I love my Son." He passed His love on by sending Jesus as the perfect sacrifice for us, and now "We love Him because He first loved us" (John 4:19).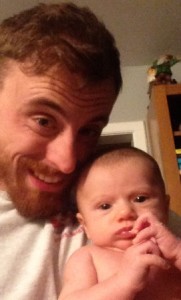 David, now you understand how much you are loved by us and as a father, I hope you have a greater awareness of how much you are unconditionally loved by your Heavenly Dad. It's your turn to pay that love forward. All the accolades, money and material goods in the world will never take the place of a love heritage passed to a new generation.
I pray, some quiet evening, years from now, when your season of parenting is over and your children are grown and gone, you receive a text like this one.
This one line text message is what parenting is all about.
This is a no regrets moment.
"Thanks for loving me so I can love!" This is the ultimate reward.
Psalm 127:3-5. "Children are a gift from the Lord; they are a reward from Him. Children born to a young man are like arrows in a warrior's hands."
Isaiah 54:13 "All your children will be taught by the Lord and great will be the peace of your children."
Proverbs 17:6 "Grandchildren are the crown of grandparents and parents are the glory of their children."