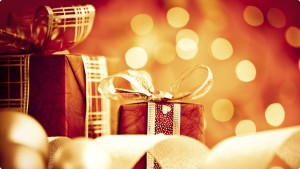 On Christmas Eve of 1974, Mike asked me over to the apartment he and his brother shared. We'd been dating since June of that year. Not long, when I think about it now. I drove to the old house in our home town and climbed the stairs to the third story attic some eager landlord had turned into a makeshift resemblance of a living space. As I remember, It was sparsely furnished, befitting of two young bachelors barely out of high school.
In the living room, a Christmas tree, set in front of a floor to ceiling window, was decorated with not enough lights and dime store ornaments. The only other furnishing was a shabby sofa which we leaned against as we sat on the floor, holding hands.
That evening Mike reached under that old sofa, pulled out a tiny box with a red bow on top and asked me to marry him. He was eighteen. I was nineteen. I've never celebrated a Christmas without him since.
Until now.
Year after year, Mike was my Christmas tradition. He was the constant in every season; from setting up the tree, then sitting on the couch to watch the kids and I decorate it, or hiding gifts all over the house and warning me not to peek if I found bags and boxes in strange places, to his impatient waiting for the pie to come out of the oven, so he could harass me endlessly to have a piece before Christmas dinner.
Forty three Christmas seasons have come and gone and now, so has he, and I have to figure out how to rewrap Christmas in a different package, one that doesn't continuously assault me with loss, emptiness and tears.
I don't know how to do Christmas without my husband. I don't even know where to start. I do know that Christmas will never be the same again.
One certainty of this season is a confidence in Who it has always been about. I know the Jesus we are celebrating. While everything feels disheveled, broken and uncertain; in the middle of my sorrow, my hope is in The One the prophet Isaiah foretold and Jesus himself proclaimed to be:
"The Spirit of the Lord God is upon Me, because the Lord has anointed Me to preach good tidings to the poor; He has sent Me to heal the brokenhearted, to proclaim liberty to the captives, and the opening of the prison to those who are bound; To proclaim the acceptable year of the Lord, and the day of vengeance of our God; To comfort all who mourn, to console those who mourn in Zion, to give them beauty for ashes, the oil of joy for mourning, the garment of praise for the spirit of heaviness; That they may be called trees of righteousness, the planting of the Lord, that He may be glorified." Isaiah 61:1-3, Luke 4:18-21.
No other Christmas season has it ever been as clear as in this one, and never have I been more thankful for Emmanuel who came for me. Emmanuel who is with me. I SO qualify to receive His promise of hope and redemption and He does not disappoint. Jesus is the gift that keeps on giving.
In whatever difficult, impossible, unbearable, crushing situation you're facing this Christmas, you qualify too.
Merry CHRISTmas!