Do you know, Jon, the majority of humans have forty six chromosomes in each cell of their body, a combination of twenty three from both their mother and father?
This mix of DNA creates a brand new and unique person. Also adding to the individuality of a new life, are the blended chromosomal characteristics of many previous generations.
Chromosomes are us! It's miraculous when you think about it.
Then..Surprise! Once in a while, someone wins the extra chromosome lottery, for a grand total of forty seven.
Someone like you.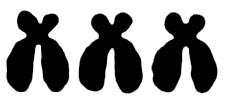 There are some theories about where that extra chromosome comes from, but no one really knows. According to experts, it didn't come from me or your father, because we each only have forty six. The greatest scientific minds have yet to figure out this random occurrence. They can't explain it.
I'm certainly not scientific. I barely passed the brain twisting subjects of biology and chemistry in high school, so if the smart people don't know, then there's little hope of accurate theorizing from me. But I've wondered about that extra chromosome at times.
Did it fall, like a shooting star, from the sky and right into you? Was it something I ate? Did God put it there? Were you specifically chosen for the purpose of carrying that extra copy of chromosome number twenty one or was it just…umm…a glitch? How does a person end up with an add-on?
It's rather mystifying, so I don't think about it too much, because doing so ties my brain in knots. But occasionally I find myself wondering who, what, you would be without it.
You probably wouldn't be living at home with us and by now would have a wife, kids, two cars, a mortgage and a dog. Believe me when I tell you, you're not missing much not having bills to pay.
I think you'd still love music and movies, and be funny and sometimes grumpy. Maybe you'd still like quiet surrounding you, be a night owl, enjoy long evenings out and slow eating, savoring each bite of your food.
I bet you'd still be messy, a bit obsessive, and would write notes to the people you care about. You would still believe, "Everyone deserves a second chance." And your smile would light up your eyes, a room, and this mother's heart, just like it does now.
We have traveled a long way together, haven't we? You, me and that extra. What a difference it's made! It's been a life changer, a guide and a teacher and we are not the same as we would have been without it.
I don't pretend to understand that chromosome or how or why it chose you. Maybe it's divine or just 'fate'. I can't say.
But it doesn't matter, Jon, because you with your added chromosome are gloriously loved. And when it comes to love, chromosomes don't count. We're all on a level playing field.
"For God SO loved the world…that whosever.." (John 3:16)
The brightest mind on earth cannot begin to comprehend the how and why of this kind of love.
If every single chromosome, in every single cell, in every single 'Whosever' in the world, is SO incredibly, fantastically, marvelously loved by the Creator of it all, maybe the playing field isn't as level as I think.
You must be extra loved.
At least that's how I see it.
Lucky you!