You may have heard about the grandmother in Canada who received a disturbing letter from an anonymous neighbor in regard to her grandson.
It was all over the news and internet a few weeks ago.
Max, has autism and spends summers with his grandmother while his mother works. The disgusting words this neighbor wrote about him barely warrant repeating, but the computer typed rant informed grandma that the boy was a nuisance to the neighborhood and he should be euthanized and his non-retarded body parts donated to science!
I read about it with anger and disbelief. Just about the time I think we're making some headway with some of our human maladies, I'm surprised to discover there are still people like this in the world.
Of course, the disability community went nuts over this, as they should, as we all should.
Websites and Facebook pages began calling for support for this family and there has been a massive outpouring of outrage from all over the globe.
Online petitions demanding justice, for what many call a hate crime, have sprung up with some supporting the arrest and imprisonment of this letter writing neighbor. Others are demanding laws be put in place to stop this type of hate speech.
Canada's Human Rights Act and Criminal Code passed laws prohibiting 'hate propaganda' some time ago but parliament repealed a section of the law this year because of the inability to draw distinct lines between what constitutes hate speech and what is only offensive.
While legislators wrangle over how to define hate speech and turn it into a crime, it is evident that laws against it create a slippery slope that ultimately risks everyone's freedom of expression.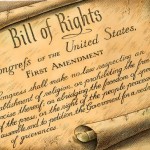 We who live in freedom loving nations, are still blessed to say whatever we want without fear of imprisonment, which means we sometimes have to put up with people who are rude, cruel or just plain stupid. 
I opt for that over loosing the ability to voice our opinions and beliefs just because they are viewed as offensive or yes, even dangerous.
If you read my previous blogpost, "Tolerating Intolerance," http://aplacecalledspecial.com/2013/07/02/tolerating-intolerance/  you will already know where I'm going with this.
As much as I believe this neighbor's letter is despicable, I refuse to sign a petition calling for this person's arrest. I love my free speech more than the satisfaction of knowing this person's sorry attitude is sitting in a jail cell.
He/she has the right to say whatever and the responsibility to choose words carefully. Obviously the responsibility part is ignored.
Jesus taught us to, " Love your enemies, do good to those who hate you, bless those who curse you, pray for those who abuse you" (Luke 6:27-28), and the Apostle Paul, in Ephesians 4:29 admonishes, "Let no corrupt talk come out of your mouths, but only such as is good for building up, as fits the occasion, that it may give grace to those who hear."
As much as we'd like to, we cannot control what other people think or say but we best be in charge of our own thoughts, words and responses.
We have an obligation to stand up in the face of injustice, but our response as Christ followers should be with wisdom and include prayer, kindness, encouragement and grace – for all. In a situation like this one that is not easy.
Max's mom must have this figured out. Her reaction to this vicious verbal attack on her son, is, 'I will not stoop to an insulting level. What I have to say is about tolerance, acceptance and respect for kids with special needs.'
Good for her! She's taking the high road.
But then she has a child who has probably taught her a lot about that.
So I'd expect nothing less.
 http://www.huffingtonpost.com/2013/08/19/karla-begley-autistic-letter-teen_n_3780378.html