I have a fascination with words and how they evolve over time, how culture redefines them. Lately, as I scroll social media, read articles and hear news, the latest descriptive word is 'Hater'.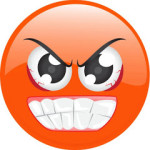 "Your a Hater!"
"They're Haters!"
"The Haters are here!"
"He/she's a Hater troll!"
"Ignore the Haters!"
Here a Hater, there a Hater, everywhere a Hater, Hater!
The Merriam-Webster Dictionary definition of hate is – a very strong feeling of dislike, intense hostility and aversion usually deriving from fear, anger, or sense of injury, extreme dislike or disgust : antipathy, loathing, to express or feel extreme enmity or active hostility.
Is it possible those who call other's a 'Hater' aren't themselves being one, just by this definition? I don't know, but it's something to think on.
It seems to me, the new cultural definition of the word Hate is – you disagree with me/us/them, therefore you hate. Have we really become this thin skinned and easily offended? It is possible to disagree with another's opinion, beliefs or position and not hate them? I disagreed with my husband a few days ago, and last week and probably last month and probably last year and I still love him. Imagine that!
The Merriam-Webster Dictionary definition of the word disagree – to have a different opinion, to fail to agree, to be different, to not be suitable for or pleasing to someone. Something/someone being different, not suitable or pleasing does not constitute hate, unless we choose to make it so.
There are some valid haters in the world. Obviously. There always has been. But when we start labeling everyone who doesn't see things our way as a 'Hater', when we silence opposing views by mud slinging and name calling or worse, free speech, free thought and healthy debate are diminished if not extinguished. No compromise can be reached and no problem can be solved.
Unity is not uniformity. Unity in it's simplest terms means we all desire the common good for ourselves, family, community, nation and world. How we get there is always up for debate. But we'll never get anywhere if we can't even talk about it.
Let's put the 'Hater' speech aside and listen to each other. Try to see issues from another's perspective. Then think on it, pray on it and be compassionate in our convictions.
Speaking the truth in love (Ephesians 4:15) does not include labeling and name calling. And if you disagree with me here, you are not a 'Hater'. Just sayin'.
Romans 12:14-18. Bless those who persecute you; bless and do not curse them. Rejoice with those who rejoice, weep with those who weep. Live in harmony with one another. Do not be haughty, but associate with the lowly. Never be wise in your own sight. Repay no one evil for evil, but give thought to do what is honorable in the sight of all. If possible, so far as it depends on you, live peaceably with all.