Being Jon's mom and caregiver requires a lot of waiting. Waiting for him to get up, waiting for him to get dressed, waiting for him to eat, waiting for him to get in the car, waiting for him to get out of the car, waiting for him to cooperate, waiting for him by staying home when I'd rather not.
Always waiting. Waiting and more waiting. It feels like a large percentage of my existence is about waiting for Jon.
All this Jon waiting has somehow earned me the 'patient person award' according to many folks who are acquainted with our situation.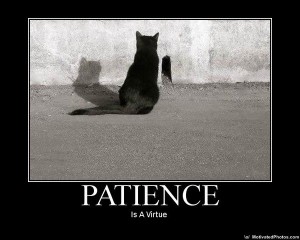 I've been told more times than I can count, what a patient person I am, as if I came by it naturally, like my hair or eye color or the big round birthmark on my right knee cap; as if I was born with patience already piled high in my chromosomes and it was this propensity for patience that qualified me to be Jon's mom when God was handing out kids in Heaven one day.
"I don't know how you do it," is what people often tell me.
There are days I don't know either.
What I do know is patience is not natural to the human psyche (even mine), and any I've collected so far has come at an enormous price. It is obtained through continual acts of giving self away and deciding to love unconditionally, by intentional practice, careful perseverance and persistent prayer.
Sometimes that prayer is nothing more than the desperate cry, "Help!"
I've found acquiring patience to be very costly, demanding and at times, downright painful.
2 Peter 1:5-8, lists eight virtues we should add to our character. One of them is patience. The word 'add' in this passage implies that we're missing something, haven't mastered it yet and like a diligent student, need to continue learning and practicing until we're skilled. There's nothing here that implies it will be easy.
Everyone I know resists the school of patience, wishing for the degree without going to class.
Many years ago as our youngest son, David, and I waited in a very long concession line at a movie theater, I witnessed a scene I'll never forget.  The young man working the counter accidentally spilled a large coke he had just poured for the customer in front of us.
The sticky mess spread all over the counter, ran under the cash register and started dripping to the floor. The station had to be closed while the mess was cleaned up and everyone waiting in our line had to move over to the end of another longer one.
The man behind us, who'd already been mumbling in my ear about the long wait, immediately exploded into rage, yelling and swearing at the poor employee, calling him names and announcing his incompetence for the entire lobby to hear.
Sadly, this man had his young son, possibly nine or ten years old, standing next to him and Dad was setting a model for an impressionable young mind, that was less than exemplary.
I remember thinking how this guy needed to live with our Jon or someone like him for a while so he could possibly experience an all inclusive transformation into a man with a speck of mercy instead of a selfish out-of-control fool; red faced, eyes bulging, veins popping and mouth contorted, spewing anger and insults, over a spilled coke! 
In that moment I silently prayed for my children to never have to watch me acting like this man. I asked God to teach me to be more patient when life doesn't go my way and humans don't behave according to my expectations.
Most of us come into the world kicking and screaming. We demand our rights from the very first breath. We are selfish from birth. Our level of patience or lack thereof reveals our true self and it grows in how we respond to the various circumstances encountered throughout life, situations that test, stretch and challenge us to the core.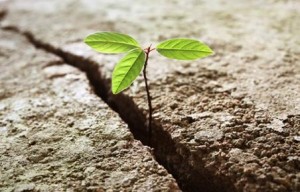 Colossians 3:12-13 tells me to "put on patience" with the idea that if I decide what to wear when I get dressed in the morning, I can also choose to be patient today, right now, even this minute.
It might feel impossible initially, but as God meets, with His grace, my desire to endure, patience grows in the midst of any inconvenience, hardship or annoyance a day might bring.
I admit, being the perpetual mom of a guy whose quirky behavior often pushes me to the limits of my own patience can be tricky. But because of my son, I'm continuously pressed into patience. I certainly didn't start out with much but Jon helps me grow this character fruit a little more everyday.
There are worse things I could be doing than waiting a little longer, laying aside my time and desires for another and learning to let go when life doesn't fit my preconceived conditions.
Jesus patiently put aside everything for me, His own rights and even His life and in reaching for the unlimited grace and goodness of the One whose greatest joy is to lovingly improve me, I can do no less for my son or for others.
2 Peter 1: 5-8 "And beside this, giving all diligence, add to your faith virtue; and to virtue knowledge; and to knowledge temperance; and to temperance patience; and to patience godliness; and to godliness brotherly kindness; and to brotherly kindness charity. For if these things be in you, and abound, they make you neither barren nor unfruitful in the knowledge of our Lord Jesus Christ."
2 Peter 3:9 "The Lord is not slow in keeping his promise, as some understand slowness. Instead he is patient with you, not wanting anyone to perish, but everyone to come to repentance."
Galatians 5:22-23 "But the fruit of the Spirit is love, joy, peace, patience, kindness, goodness, faithfulness, gentleness, self-control; against such things there is no law."
Colossians 3:12-13 "Put on then, as God's chosen ones, holy and beloved, compassionate hearts, kindness, humility, meekness, and patience, bearing with one another…"
Philippians 3:3-8 "Do nothing from selfish ambition or conceit, but in humility count others more significant than yourselves. Let each of you look not only to his own interests, but also to the interests of others. Have this mind among yourselves, which is yours in Christ Jesus, who, though he was in the form of God, did not count equality with God a thing to be grasped, but emptied himself, by taking the form of a servant, being born in the likeness of men. And being found in human form, he humbled himself by becoming obedient to the point of death, even death on a cross."