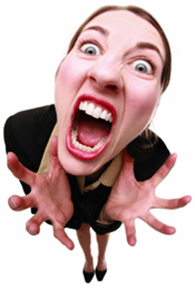 Jon desperately needed a shower and shave. When I went in his room to vacuum and change his sheets, I took his iPad and told him he could have it back after he cleaned himself up.
"Why don't you do that while I clean in here," I said with a smile, "then everything about you will be clean and shiny today."
He scowled at me and left the room.
I busied myself for the next hour picking up a variety of things from the floor: sticks, strings, marbles, batteries, dice and pens, throwing away piles of old paper he'd collected and organizing his DVD and VHS collection back on shelves.
When I went to check on him he was in our bathroom. I'm never thrilled about Jon in the master bath. He gets into all our stuff when he's in there, but it's the only bathroom in the house with a tub so we allow it from time to time.
Later that evening I noticed Mike's electric shaver was missing along with my pearl necklace. I knew Jon had used the shaver since he emerged from our room with his caveman beard missing.
We looked in all the places he might have laid it down and didn't find it so I knocked on his door.
"Jon, Dad's shaver is missing and so is my pearl necklace. If you have them would you please set them outside your door? Dad needs his shaver before he leaves for work in the morning. I was going to give back your iPad but we need those things returned first"
He frowned, glared at the floor and when I left the room, threw a small object at the back of the door to emphasize his disapproval of my decision.
In the morning the shaver and the necklace were lying on the hall carpet in front of his door. I thanked him and returned his iPad.
Negotiating with Jon has become a survival skill I have learned over the years. He is slow and often resistant to respond to everything, including directives. The more he's pushed, the further he retreats, so I need to remain firm, calm and wait him out.
When caring for someone long term, who needs help making good choices but doesn't want it, choosing which battles to engage is important for sanity's sake. Some aren't worth fighting and others are tough to resolve no matter what. Then there are those days I know I won't have the patience needed, so it's best to avoid conflict, if possible.
Dealing with difficult people requires a good amount of tongue taming, self control and wisdom and all of us have plenty of opportunity to practice because we all have difficult people in our lives.
How we respond to them is usually more about us then them.
Because we are naturally selfish, anger is often the normal response. Our reaction is usually based, not on what will solve the problem, but how the other person is making us 'feel' at the moment.
What we say at such times and just as important, how we say it, reveals who we really are. A response of great character is described in Proverbs 15:1-2 & 4, "A soft answer turns away wrath, but a harsh word stirs up anger. The tongue of the wise commends knowledge, but the mouths of fools pour out folly..a gentle tongue is a tree of life.."
Jesus was a master at responding to others instead of reacting. He knew exactly what to say in every situation and confrontation. He also knew when to be quiet and slip away. (John 12:49 "For I have not spoken on My own, but the Father Himself who sent Me has given Me a command as to what I should say and what I should speak.")
Can we begin to see the difficult folks in our lives as teachers instead of problems, opportunity for personal growth instead of someone to conquer, and a challenge to build strength of character instead of an irritation to curse? It's certainly not easy to maintain this idea!
As we set our heart on the intentional practice of responding to others with grace, gentle words and quiet confidence, we find God gives us what we need to be changed from the inside out.
And as we pray for help to become less reactive to difficult situations and people, it becomes natural to keep a calmness and peace about us that others notice and desire.
Then we will "Be ready at any time to give a quiet and reverent answer to any man who wants a reason for the hope that you have within you..with gentleness and respect" (I Peter 3:15).