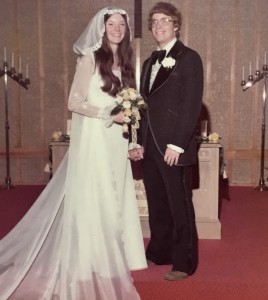 I was barely twenty years old when Mike and I married on August 23, 1975. I confess now, though I didn't think so then, I knew nothing of love. I was 'in love', but was unaware of the truth that love was not much in me.
Love was all feeling. All desire. And so much about my personal happiness. Of course, I wanted to please Mike, make him happy and keep our love alive and growing, but I had no clue how the melding of two entirely different souls would forge and shape us. I had no idea the process would continuously be both marvelous and difficult, until our last breath.
Over many years of marriage, I have failed all of love's definitions.
Every. Single. One. And have often prevailed in love's opposites.
After all this time, I have yet to perfect even one of these:
Love is patient. Selfishness demands, "Now!"
Love is kind. Selfishness retaliates.
Love does not envy. Selfishness is discontent.
Love does not boast. Selfishness demands recognition and approval.
Love is not arrogant. Selfishness doesn't admit, "I am wrong."
Love is not rude. Selfishness must have the last word.
Love does not insist on its own way. Selfishness says, "My way or the highway".
Love is not irritable. Selfishness has many moods.
Love is not resentful. Selfishness is bitter and accusatory.
Love does not rejoice at wrongdoing. Selfishness retaliates.
Love rejoices with the truth. Selfishness hides in lies.
Love bears all things. Selfishness says, "I've had enough. I'm done!"
Love believes all things. Selfishness cancels faith.
Love hopes all things. Selfishness feasts on distrust and fear.
Love endures all things. Selfishness builds walls of protection.
Love never fails. Selfishness gives up and walks away.
One year followed another and as time moved forward, my selfish heart awakened to the idea that love isn't all about me. And the perception that I, in my own strength and by my human effort, could love as God loves, completely and unconditionally, is now banished. I desperately need His grace and help here. I am a work in progress. Always.
Forty two years ago, two imperfect people merged to begin a journey of growth and improvement. Iron is sharpening iron and two are still becoming one, as we continue to practice what love should be. I have deep gratitude for my husband who steadfastly forgives and doesn't give up on me, though my love has often failed.
At this point, I think we understand a bit better, "So now faith, hope, and love abide, these three; but the greatest of these is love." I pray a year from today, I'll fail less at this love thing as our Love Never Fails learning continues.

From~1 Corinthians 13:4-8 & 13
 "Therefore a man shall leave his father and mother and hold fast to his wife and the two shall become one flesh. So they are no longer two but one flesh." Mark 10:7-8
"Iron sharpens iron, and one man sharpens another." Proverbs 27:17