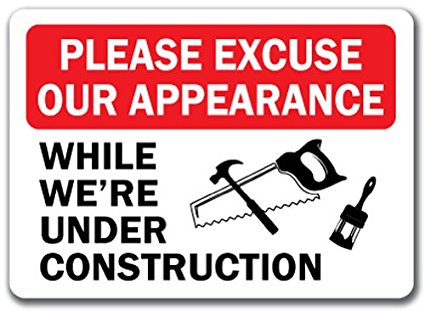 In March of 2017, Mike and I went on a seven day cruise with our son, David and our daughter in law, Clara. Finding someone to stay with Jon that long is rare, but our good friends, Lou and Thelma, graciously offered to hold down the home front for us.
It wasn't so much about where we went and what we did, but the opportunity to unwind and be uninterrupted together. It took Mike about four days to leave the weight of his many responsibilities behind. I watched his shoulders relax, the worry lines across his forehead fade, saw his dry wit and easy laughter return. And the fun of cruising got us talking seriously about his retirement when he turned sixty five, still five years away.
Retirement seemed like a mute point to him without us having freedom to come and go. We needed a solution for Jon if we were going to be able to travel and do some of the things we've always wanted to do. On Friday of cruise week, he sat us all down at lunch, excited about a great idea he had. He wanted to build a caregiver house on our property and have someone live there to help with Jon. It would be a one time expenditure, something we could pay off, unlike life long residential care, and would provide a long term solution to our retirement challenge.
The four of us agreed it was a good idea if we could convince the code and permitting powers that be, to approve it. In Mike's typical get-on-it, gotta'-fix-it-now style, he started in as soon as we arrived home. Checking out tiny house architectural designs, taking out a loan, calling the city, arguing with permitting, lining up the general contractor, surveyor and land clearing. As usual, he began moving through the process methodically, with the weight of a freight train and the efficiency of an ant army.
Before the concrete slab was poured, he was craigslist surfing and sale shopping, buying appliances, flooring, paint, sinks, faucets, lighting, a hot water tank and AC unit. All of which are still piled in packing boxes in the garage.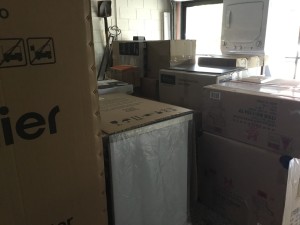 Things propelled into fast forward and we were excited to see block walls going up. The project was scheduled to be completed by the end of December. Then, in early October, my husband died. I put the project on hold, seriously considering bulldozing the whole thing down. Why care about retirement now? And why would would I want to travel or do anything without him? This was his dream for our future and he literally died at the door of it. That is where I found him when I came home that evening, leaving our future in ruins at my feet.
This little house had suddenly become a reminder of all that was not to be and a barely completed weight added to the many new responsibilities I now had to carry alone. Every time I looked at it, it reminded me of life in my sorrow-filled season: sad, empty, incomplete, uncertain and burdensome. I began to hate that house, but realized God knew the timing of all this. It had been constructed far enough for me to see the foolishness and waste of tearing it down. So I resolved to finish it.
After four months it is back under construction (along with a new roof going on the house we live in, another project landing in my lap when Mike exited). My property is swarming with construction people this week. It is anything but peaceful here.
Life is always under construction. Change comes. Ripping down. Rebuilding. Clearing away the old. Making space for something new. Some construction we look forward to and just as often, are the times we would never choose the abrupt, difficult and complete re-structuring we find ourselves in.
Construction is loud, messy, noisy, annoying and feels endlessly incomplete. But it's goal is for a finished product. A purpose. Something useful up ahead. Though I don't see it, can't feel it, and hate the place I'm in, I must believe God has my best at heart. Only He can complete me.
"And so I am sure that God, who began this good work in you, will carry it on until it is finished on the day of Christ Jesus," Philippians 1:6.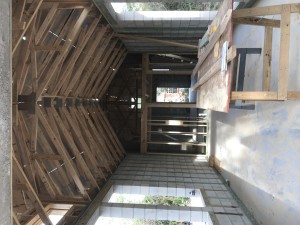 My entire life is currently under construction. Fortunately, God is a patient master builder. He leaves nothing undone. While everything feels chaotic and uncertain, I'm hanging on to the hope of a finished product that glorifies Him and the promise of a future that looks to Jesus, 'the author and finisher of my faith' (Hebrews 12:2). And I pray something beautiful will rise up from the dust of this unwanted situation.
"Come let us return to the Lord; for he has torn us, that he may heal us; he has struck us down, and he will bind us up" Hosea 6:1
"Unless the Lord builds the house, those who build it labor in vain.." Psalm 127:1