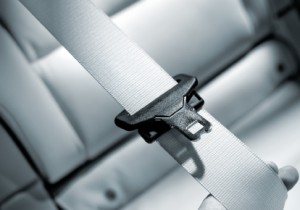 I drove halfway up the driveway before noticing Jon didn't have his seat belt on, so I stopped the car and put it in park.
"Please put your seat belt on, Jon."
He glared at the floor and snarled, "Leave me alone!"
"You want to be left alone? Ok then."
I put the car in reverse and backed it up to the garage, where we'd just come from.
"You want to be left alone? Then get out of the car right now and go back in the house."
I stared at him. He stared at the floor. We sat in silence for a minute.
"You either get your seat belt on and loose the attitude or get out of this car. I'm going out to have a nice time and I don't need any grumpys coming along to wreck it." I said firmly.
The scowl on my son's face relaxed and he reached for the seat belt and slowly clicked it in place. I thanked him and off we went.
On the way to our destination, I decided to remind him why seat belts are not an option. I began to explain in simple language I knew he understood, that wearing one is the law and how they save lives in case of an accident.
As I was talking he reached out and turned the radio volume up.
"So you don't want to hear what you need to know, is that it, Jon?" I reached over and turned the radio down. "You don't want me to talk? Well, I won't quit talking 'till I'm dead. So you might as well get used to it."
He reached over to turn the radio back up but not before I heard him mutter, "Hope that hurries up."
I desperately tried not to laugh. Something so hurtful can be hilarious coming from Jon. He doesn't talk much but he sure doesn't pussy foot around about how he feels. At thirty five, when confronted with his inappropriate behavior, he's often like a moody, bad attitude teenager who forgot to grow up.
I glanced at him as I drove and answered lightly, "Because you just said that, God is now going to make sure I live forever."
A barely-there smile crossed his lips and he turned to look out the window so I wouldn't see it.
This is what I know.
Sometimes, people I care about say words that are less than loving.
Get over it!
Sometimes, people I love are hurtful.
Get over it!
Sometimes those I try to help, lash back.
Get over it!
Sometimes those I most want love, acceptance and approval from, disappoint.
Get over it!
If Jesus, who was nailed to a tree, and in the excruciating pain and suffering of his final breath could declare, "Father forgive them, they don't know what they're doing," for those who hung Him there, I have no right to hold an offense against those who do less to me.
I'm learning from my Savior and my son how to get over it!
Getting over offense is a choice we constantly make. Everyday and in all situations.
Will I hold on to the hurt and add it to my growing list of offenses?
Will I choose bitterness and bondage or forgiveness and freedom?
Will I choose to stop taking every word, action and reaction personally?
Will I choose to stop being overly sensitive.
Will I choose to let go?
When I pray for strength I don't have, God's grace meets me at the point of my choice. I then see others through His eyes and with His heart.
Broken.
Bruised.
Damaged.
Valuable.
Forgiven.
Deserving of love.
Worthy of redemption.
Just like me.
So. Get. Over. It!
"The first to apologize is the bravest. The first to forgive is the strongest. The first to forget is the happiest." ~Unknown~
Matthew 18:21 Peter came up to the Lord and asked, "How many times should I forgive someone who does something wrong to me? Is seven times enough?"22 Jesus answered: Not just seven times, but seventy-seven times!
Colossians 3:13 Bear with each other and forgive one another if any of you has a grievance against someone. Forgive as the Lord forgave you.
Ephesians 4:31-32 Be kind and compassionate to one another, forgiving each other, just as in Christ God forgave you.