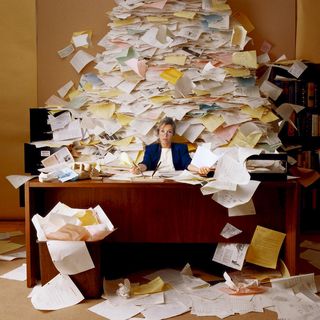 I've learned a lot the last few months about the role best performed by my late husband's calculator brain rather than my illlogical. creative one. I never wanted to learn or do all this administrative stuff he did so well; things I cared less about under normal circumstances, and especially despise, in the middle of unbearable sorrow.
Paperwork. Forms. Systems. Numbers. Rules. Regulations. Institutions. Bureaucracy. Red tape. Makes my eyes cross, my brain turn to mush and my blood pressure rise. I feel like I'm back in Algebra class wondering who decided letters and numbers should go together. And I flunked algebra twice then passed by one point the third time around. In summer school. With tutoring!
Apparently I'm a bit smarter than I've ever given myself credit for (notice I said 'a bit') and Mike might be proud of me. Unfortunately, I'm being forced to learn this stuff because he's not here to do it anymore. It's amazing how you can rise to a challenge when not given a choice.
Anyway back to what I've figured out and what will save you some hassle should you ever (I pray not) be in my shoes. So for what it's worth:
Most financial institutions no longer honor wills. Yep. You read that right. "Wills can be contested," I've been told. So a will is no longer the top dog of the legal document pile.
Most banks, especially the larger ones, now have in-house beneficiary forms. If we had known about this and used it, I wouldn't be retaining a lawyer to access funds from a savings account we forgot to put my name on. Ask your bank if they have this form and by all means name your beneficiary and sign it. If you each have separate accounts and would like your spouse to have access to it immediately upon your death, this form should take care of it. But ask to be sure.
(By the way, here's something I didn't know; Power of Attorney, is only useful if the person you have it for is still alive. It's useless once they're deceased.)
Be certain both spouse names are on every single account you have if you want your significant other to have immediate access. It's better to use the word 'OR' between your names whenever possible, rather than 'AND'. 'Or' means either. 'And' means both. Even when supplying a death certificate, I've had issues depositing an insurance check for hurricane roof repair because Mike couldn't sign it when it used the word 'and'.
Be certain both names are on car titles joined by the word 'OR'. I am able to sell either of our cars and easily transfer registration solely to my name because of this little word. 'Or' means either one of us can make decisions about the car without the other. If there is someone you want to have immediate access to your car when you're no longer here, go to DMV and pay the $80.00 (cost where I live. Fees may be different in other counties or states) to add their name (along with that 'or' word), otherwise the car will have to go through probate because the owner is unable to sign the title.
The same is true of real estate, houses or property. Make sure both names are on everything. Ask, when you open accounts, buy property or perform any legal transaction, what can be done to insure this asset passes to my spouse immediately if I'm deceased. Then take the time to do it.
Speaking of cars, be sure you know who your roadside service is. What mechanic, garage or dealer services your cars and whether you still have a valid warranty. I've already had to deal with a car that wouldn't start. Car maintenance was another task I never thought much about. Mike always took care of it.
Unless you plan on hiring it out, be sure you have general knowledge of other maintenance items such as pool pumps, filters, chemicals, and cleaning / Service for Air conditioning and heating systems. AC filters and when and how to change them / House water softening or purifying systems / Know where your whole house water shut off is to avoid a flooded house should a pipe burst or some other indoor water emergency occur.
Much bill paying, banking, even investing is now done online. Can't emphasize enough!!!! How important it is to sit down together and take the time to make a spreadsheet listing ALL accounts with contact info, account numbers, user ID and password. Keep all online access info current by updating passwords as they change. Believe me, this will simplify your transition to single-ness if you're not the one who takes care of the family finances.
Keep a list of reoccurring monthly and/or yearly payments with account numbers, amounts, passwords to online accounts and what bank account or credit card they're tied to. Also list bills that are still paid by mail.
Write down active credit cards by account name and number along with online access information to credit card statements and payment if needed. And don't forget to update any and all info (especially passwords) if/as it changes.
Keep a file cabinet organized and up to date. Organize by categories: Bank accounts, credit cards, life insurance, car insurance, health insurance, real estate, loans, IRA's, taxes, etc. Go through it once a year (at least) and update or remove old or invalid information from your files. This will make it easier to find everything needed when you're heart is aching and your brain has turned into sad, unfocused mush.
A few side notes; You'll be asked for your deceased spouse's social security number often at first, so make sure you have a copy of it available or have it memorized. Also don't cancel your spouses cell phone account immediately. You might need it to search for important information or the phone number may be tied to some vital accounts, text or email notices you might not know you need at first.
No one wants to talk about the possibility of death and couples never want to think about living without each other, but I'm now a certain statistic that it can happen and sometimes without warning. Whatever practical steps can be taken to minimize panic and ease the burden of grief will be worth it, someday, for one of you.
Take the time to prepare just in case, with hopes you'll have a long and wonderful life together.